New Menu, more choices!! See the menu pages for all the exciting new options!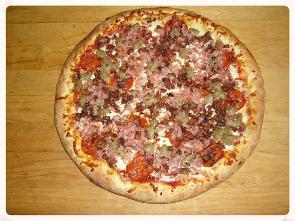 About Us
We are an independent take-out pizzeria. We have been serving Glencoe and surrounding area since 1997.

As well as pizza, we also have potato wedges, wraps, wings, nachos, a variety of salads, and more.
Ordering Tips:
Thin crust is available for pizza and panzarotti.
You can ask for less cheese or even no cheese.
If you don't like regular pizza sauce, you can choose Garlic Butter, Creamy Ranch, BBQ Sauce, Salsa Sauce, Sweet Chili, or even No Sauce!
Philosophy
Our food is all made fresh to order, so we will do our very best to make your order the way you like it! Let us know if you have dietary restrictions - our friendly staff will help you find just the meal you want.
245 Main Street, Glencoe, Ontario | 519-287-2132